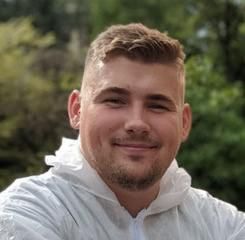 Jonathon Brooks
Director of Forensic Training
,
IGC UK
Jonathon completed his bachelor honors in Forensic Science at Teesside University, collaborating his final year project with Durham Police dog unit, investigating the volatile organic profile of blood. He recently completed his PhD in chemistry at the University of Leicester, focusing on the identification and application of volatile organic profile released from mammalian decomposition.
Integral to this research was the collaboration with UK and international police forces providing advice on the search and analysis of human remains specifically around the effectiveness of cadaver dogs and the estimation of time since death.
Jonathon delivers specialist forensic capabilities around the search and recovery of human remains, which include the delivery of training and consultancy to law enforcement agencies. This includes; forensic medicine, forensic taphonomy, forensic archaeology and forensic anthropology. This had led to consultancy work with multiple agencies including the Spanish Army, Poland Mountain Rescue forces and UK Home Office Police.